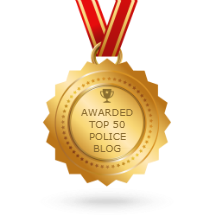 Top 50 Police and Law Enforcement Blogs
My website has been named one of the Top 50 Police Blogs on the Internet by Feedspot. Feedspot has ranked the Top 50 Police Blogs and Law Enforcement websites for its annual awards. I'm quite excited about the honor at landing on the #40 spot, but I have a lot of work ahead of me to get #1! Think big, right?
Harder to Police Today's World
Each week I try to add pertinent information and sometimes an explanation of police matters through my media appearances. We live in a different environment from when I started in policing in 1992. Technology has exploded for the good and the bad. In my opinion, cops have a much harder job today than they did. Everything they do now has a cellphone camera thrust in their face. I don't know how I would fare in today's environment, or if I'd want to. It's still a noble and worthy profession that encourage everyone to take. You not only help your community, but you will be glad that you did.
Future Plans
Moving forward, I plan to highlight how technology like police body cams, dashboard cams, and social media are changing how policing in the United States is done. I will also investigate new ways of improving police leadership and criminal investigations. Even with new advances in forensics and technology, crime clearances rates continue to drop to historic lows. There is a clearance rate problem in the U.S. We must first identify the problem, analyze it, develop and plan, then implement it. Policing plans should be in a constant state of evaluation. That is the only way to make changes.
I want to thank you for your support. Without your help, this endeavor would not be successful. I also want to thank Feedspot, for choosing my site for the award.
I encourage you to check out the other Top 49 Police and Law Enforcement Blogs